New Workplace Regulations for Australia
In new workplace regulations for Australia, you're offered the opportunity to download the Government tracing app in order to 'keep safe'.  All businesses are required to keep a log of all visitors to their premises.
New workplace safety initiatives including online training and guidelines have been created, to provide additional guidance on maintaining employee and public health during the coronavirus pandemic.
Businesses Must Collect Names, Addresses And Other Details Of All Visitors, Customers And Staff On The Premises
This means businesses must collect names, addresses and other details of all visitors, customers and staff on the premises.  Instead of collecting this information on paper, you can use an easy BVMS (Business Visitor Management System) feature on the Whizzl app.
*Once businesses have downloaded the app, they can simply keep the QR code in a central location so that visitors, customers and staff members can scan it, and register their presence at that business location by filling out the fields in a simple landing page.  
Using The Simple Whizzl App Alleviates Both Privacy And Risk-Of-Infection Issues
This means customers and staff avoid having their personal details (including name, number and email) left in a public location, where privacy and personal safety could be breached if unwanted parties access that information.
Also, the simple questionable fact that many different hands use the same pen left at sign-in posts at businesses across the country, leads to a much higher level of potential cross-contamination.  There is no onus on customers, nor proof, that people registering their data access hand-sanitisers, if they are made available for use in the first place.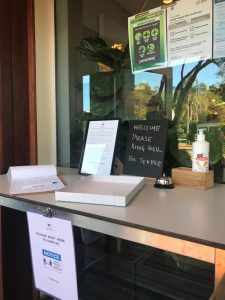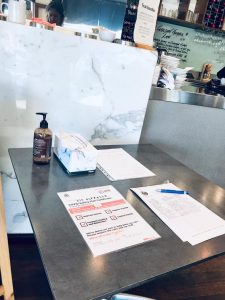 The current government-endorsed paper-and-pen public registration process creates a double safety hazard.
Using the simple Whizzl app alleviates these privacy and risk-of-infection issues.
Data entered into the app goes straight to the back-end of Whizzl and is not shared with third parties.
There Is No Onus On Guests To Have To Download The Whizzl App
There is no onus on guests to have to download the app, though of course they can do that too and receive all the benefits it brings like joining businesses' communities, receiving notifications of upcoming specials, offers, events and a sense of belonging in these strange times we're living in.
In The Event Of An Outbreak In The Area
In the event of an outbreak in the area, those registered shoppers and customers could be immediately notified. This means they could take affirmative self-care action like stringent self-isolating, watching for symptoms and eventually getting tested if needed. 
Not only would this process protect individuals, including both customers and staff, but also society at large.  Effective communication to those potentially affected in a local community can mean literally the difference between life and death. 
There Is No Geo-Tracking Of Users Of The App
There is no geo-tracking of users of the app, (unless they choose to use that facility in the app by using the Whizzl camera) and their data is collated by the business that provides the registration tool, or the local council (if they roll out the registration tool to their local businesses for the express purpose of keeping the community safe). The communities where they live and shop are the ones who'll communicate to them in the event of an outbreak.
The main difference here is that people have the choice to opt in and opt out, within a specific community or place, during these specific COVID-19 times.
No Ongoing Monitoring Of Movements
There is no ongoing monitoring of their movements by any centralised authority, nor personal information about the people they are individually interacting with.  It just gives a general overview map of which businesses they've registered at, and where they've been. 
Any reporting of a person found to be a carrier of COVID-19 remains anonymous to all, protecting users' total privacy.
Once The Crisis Is Over, People Need Not Have Any Further Registration With Whizzl
Furthermore, once the crisis is over, people need not have any further registration with Whizzl, unless it's something they opt to stay connected to due to the advantages it brings to the community:
Opportunity to give meaningful feedback

Create caring responsive communities

Create safe and hygienic living conditions for all

Eventual opportunity to generate rewards for community-building behaviours and actions

All backed up by blockchain-based transparency with no centralised control (like removing posts etc)

Posts with 100% audience reach (not just the few based on biased algorithms)
Australian Government Tracking App COVID-19
Faith in the Australian government has been challenged this year between drought, bushfires and now the coronavirus response. 
Australians are feeling pretty wary of using the Gov-suggested tracking app.
Public comments from the Prime Minister Scott Morrison suggesting it would become mandatory if not adopted by a certain percentage of Australians, lead to further furore and claims of personal human rights to privacy being once again challenged.
Australian Prime Minister's Facing Criticism For Not Closing Schools Officially
Couple this with criticisms the Australian Prime Minister's facing for not closing schools officially while keeping Parliament closed (to name just one contradiction), it's not a great time to be asking Aussies to sign up for an app which tracks their movements. 
Especially when that app or similar, has been used in countries such as Singapore (the latter of which hasn't got the best international privacy track record).
Singapore
In Singapore, reportedly only 30% of the population has conceded to download the app TraceTogether.
First you download the app, and turn on your Bluetooth. When enough people are using the app, then the Bluetooth signals between users are automatically read, and the data collated.  
The users' registrations on the app are kept as 'encrypted ID addresses' so that no authority, third-party or other user can see who you are.  The data is kept on your phone for 21 days, then 'rolled over'.
According to the website, there is no record of your geo-location from using the app.  It simply gathers information on who you've been close to, and if one of those people (all anonymous ID users) reports through the app to being COVID-19 positive, then all people who've been nearby are contacted and 'anonymously' informed via the app.  This enables potentially affected users to take active measures to reduce further contagion by enforcing strict quarantine, and getting tested for example.
Australia
So now to the appetite of Australians to accept the 'strongly suggested' choice to download a tracing app here in Australia, based on the Singaporean model outlined above.
Use of this app is being proposed by the Australian government ostensibly for the reasons of keeping track of Coronavirus outbreaks. 
Although there's an apparent need to maintain clear records of where you've been and who you've been in touch with in order to reduce further contagion, it's definitely not being met with enthusiasm from the general public.
Australians Do Not Generally Want To Download The Government Covidsafe App
A quick question to the public on Facebook and Twitter brings in social proof that Australians do not generally want to download the COVIDsafe app, nor adhere to the daily check-ins, having the government track their movements. Recent reports however indicate that 44% of Australians have downloaded the app. 
"Of those who had downloaded COVIDSafe, 90% said they had registered and kept Bluetooth switched on either at all times (77%) or when they left home (15%)." 
The issues with effectiveness and use of the app seems to lie in part to the fact that:
The COVIDSafe app is only useful if everyone is using it
The use of Bluetooth technology means it's only useful if users actually have their phones turned on, Bluetooth-enabled (you can turn Bluetooth off while using the phone) and carrying their phones with them when they're out and about
Most phones have the Bluetooth AUTOMATICALLY switched off as this feature consumes a lot of battery power
People are concerned with abuse of power and privacy
The two tech giants who tend to dominate the world of mobile phone technology, Apple and Google, announced they will collaborate to build effective technology that works across both kinds of devices (iOS and Android) so that tracing apps can work more efficiently. 
But they stipulate that information from the apps can only be used by public health authorities, and that information about individuals cannot be gathered for concern about ostracisation of citizens and private businesses.  The main concern is to maintain privacy and protect users' personal information (note: this stipulation could be overruled by higher legal authorities.)
thestar.com.my says:
"Apple and Google, whose operating systems power 99% of smartphones, said last month they would work together to create a system for notifying people who have been near others who have tested positive for Covid-19, the disease caused by the coronavirus.

"The companies plan to only allow public health authorities to use the technology.

"Both companies said privacy and preventing governments from using the system to compile data on citizens was a primary goal. The system uses Bluetooth signals from phones to detect encounters and does not use or store GPS location data."
cnbc.com writes:
"Google and Apple are planning to update their phone operating systems with new APIs — application programming interfaces — that apps can use to track which other phones have been close-by using Bluetooth signals."

"Apple and Google will work to enable a broader Bluetooth-based contact tracing platform by building this functionality into the underlying platforms. 
While apple.com writes:
"Privacy, transparency, and consent are of utmost importance in this effort, and we look forward to building this functionality in consultation with interested stakeholders. 
What Makes Using The Whizzl App So Different?
Why should Aussies trust this over the one being developed by the Australian government, together with private tech contractors, and Apple and Google?
First and foremost, the Whizzl app doesn't rely on Bluetooth information to track your location.  
A Customer Or Staff Member Can Simply Opt-In to Whizzl Without Downloading App
You as a customer or staff member, can simply opt-in either by:
downloading the app or

just registering your presence at a given business/ work location by scanning that participating business' QR code and filling out your contact details
Whizzl Is Used As A Reliable Electronic Tool That Reduces Staff Administration Time And Costs
*As mentioned above, business operators can use this app for their visitors, including staff and customers, as a more reliable electronic tool that reduces staff administration time and costs.
And instead of having to write down contacts using pen and paper (which then later must be recorded by manual data-entry elsewhere), they can simply register their business and have customers scan the specific business QR code found on the counter or reception.
Whizzl Was Created To Foster Community Satisfaction
Furthermore, the Whizzl app was originally created to foster community satisfaction through effective customer feedback management.  It's been developed originally for the purpose of helping property management teams create more harmonious and happier living conditions for residents.
By creating an effective feedback system, people within communities can report problems (for example: rubbish, a burst pipe, a broken lift, a messy common area). 
Management teams are compelled to act favourably (also because of the transparency of their responses via the app to the whole community) and once a mutually-agreeable solution has been reached, all parties are justly rewarded for doing so.
Other Health And Safety Uses For The App Were Recognised
With the rapid global unfolding of COVID-19 however, other uses for the app were quickly recognised. 
These include the use of its inbuilt BVMS (Business Visitor Management System) in shops and food outlets.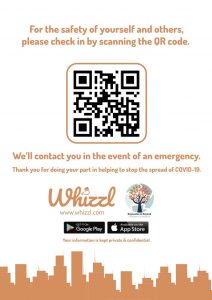 Whizzl's Inbuilt BVMS (Business Visitor Management System) Is Currently Being Trialled By Bayswater Chamber of Commerce
Currently the Bayswater & Beyond Chamber of Commerce in Western Australia is trialling this system for its shop-owners and local businesses, so they can help track customers' touch points, keeping both themselves, their staff and the community safer. This is a means of supporting Smart Cities of the future, driven by its residents and not the other way around.
To learn more about Whizzl's BVMS feature to help keep your business and community safe:
Register your contact details and one of our local representatives will contact you: https://www.whizzl.com/bvms-australia-new/
Contact us:
Whizzl Australia: +61 (0)8 6559 5677, www.whizzl.com/introau
Whizzl Malaysia: +60 (3) 2710 1223, www.whizzl.com/intro
Download the app in your Play or App Store.
Google Play Store: http://bit.ly/2F8LQId
Apple App Store: https://apple.co/2KidZ3M
Follow us on socials:
Facebook: https://www.facebook.com/whizzlofficial/
Instagram: https://www.instagram.com/officialwhizzl
Youtube: https://www.youtube.com/channel/UCVTZxibGhJ9auN8Vb4r0pgQ/videos