Whizzl is proud to be partnering with trusted insurance company AXXESS (underwritten by AIA General Berhad) to introduce to our Malaysian communities a new comprehensive version of COVID-19 Insurance*.
Afffordable 3-In-1 Insurance
This version is different to the previous one since it also offers the option for Dengue Fever and Accident cover.  The number of Dengue infected victims has been alarmingly high in Malaysia of late, which is a double stress together with the COVID-19 pandemic.
No Medical Check-Up Needed
This insurance is easy to obtain, you don't need a medical check-up, and it's reasonably priced, with special payment options, so that all families and businesses can participate and be covered in the event of needing support. 
The policy covers the whole family and staffing group, from one-month-old right through to 65 years, with only 7 days waiting period before approval of your application.
The cash payout in the unfortunate event that you require it, is up to RM12,000 for an affordable cost of only RM28,50 for 3 months' coverage.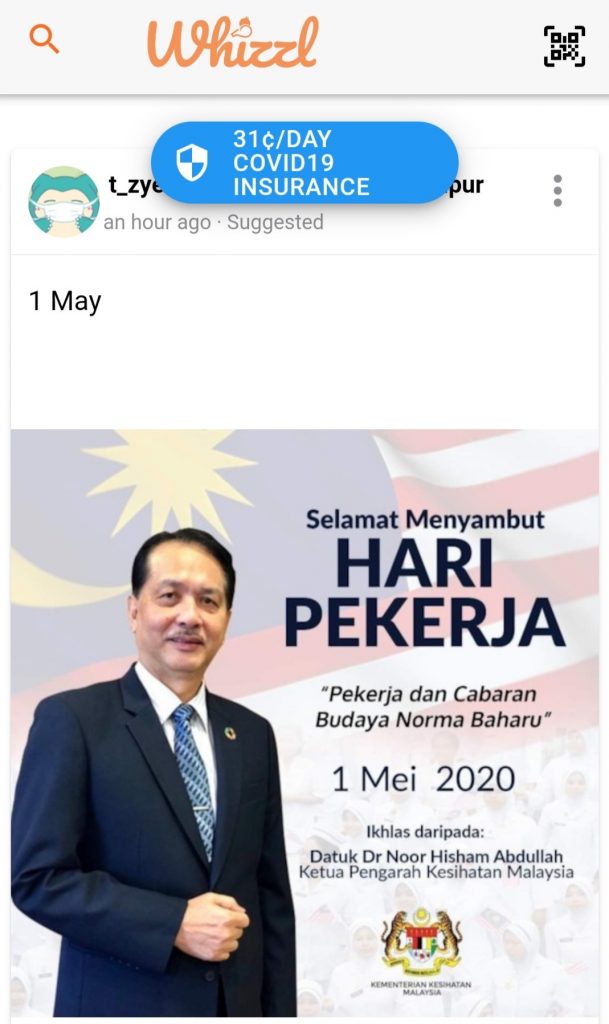 Whizzl sees this as being a great opportunity for business owners and companies using the app to be able to purchase this insurance to cover their staff. 
Extra Layer Of Support To Employees
By providing this extra layer of support to employees and practising compassionate leadership, businesses gain greater trust, productivity and loyalty from their staff members, who feel a little safer in the midst of this highly stressful and disruptive pandemic experience. 
Cost Of Employee Ineffectiveness
The cost to a business of employee ineffectiveness due to staff stress and anxiety is potentially huge in normal times, let alone during an international health crisis of this nature.  Anxiety in the workplace can cost businesses thousands of hours of lost time due to stress-related symptoms like headaches, migraines, neck pain, fatigue, weight gain, mood swings, depression, dependency on alcohol & drugs, difficulty concentrating on, learning and remembering information, for example.
However, by providing an extra layer of insurance support for employees, you might just find you move through this challenging period in history as a more balanced, empathic unified team.
Benefits Of Reducing Stress And Anxiety In The Workplace
Other benefits of reducing stress and anxiety in the workplace include:
Increased productivity

Reduced staff turnover

Greater team cooperation

Effective communication

Open and honest relationships

Reduced illness and absenteeism

Motivation to succeed

Greater creativity

Increased short-term immunity
Cover Your Staff
Whizzl communities – take one small step to cover your staff by purchasing short-term insurance, and while there are no promises of outcomes, you could be reaping benefits far beyond what you expected during these trying times.
Use The Whizzl Hot Button
Download the Whizzl app (if you haven't already done so) and use the Hot Button to purchase this COVID-19 insurance for family and/ or businesses.  Refer this offer also to colleagues and friends, and help make our communities happier and healthier.
Download the app in your Play or App Store.
Google Play Store: http://bit.ly/2F8LQId
Apple App Store: https://apple.co/2KidZ3M
---
Any questions?
Contact us:
Whizzl Malaysia: +60 (3) 2710 1223, www.whizzl.com/intro
Whizzl Australia: +61 (0)8 6559 5677, www.whizzl.com/introau
Follow us on socials:
Facebook: https://www.facebook.com/whizzlofficial/
Instagram: https://www.instagram.com/officialwhizzl
Youtube: https://www.youtube.com/channel/UCVTZxibGhJ9auN8Vb4r0pgQ/videos
*Terms & Conditions apply